Hospitality: getting ready for the government coronavirus support schemes
"Eat out to help out"
On 8 July, the Chancellor of the Exchequer Rishi Sunak announced a new government-backed scheme to help encourage diners to eat out again following the easing of lockdown, labelling it "eat out to help out".
The offer even includes children's meals, which could save a family of four up to £40 when dining out on a Monday, Tuesday or Wednesday throughout August.
The offer will be implemented through a voucher scheme, which will entitle diners up to 50% off UK restaurant menus.  The discount will not apply to alcohol, but to food and soft drinks with a value of up to £10 for each person on each eligible day.
The element of the bill not paid by the customer will then be covered by the government, in a move which the Chancellor hopes will help to speed up the recovery of the struggling hospitality industry.
Businesses serving food will be able to register on a website from 13 July and must do so before the start of August to benefit from the scheme. Customers eating at a participating restaurant will then have the discount automatically applied to their bill and then within five working days, the money will be reimbursed directly into the bank account of the restaurant.
Anywhere which serves food can sign up for the scheme, meaning that pubs, restaurants cafes and even some bars will benefit. However, the discount will not be applicable for takeaway and delivery.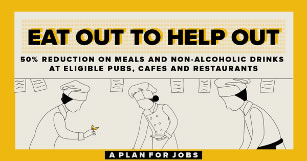 The announcement comes as part of Sunak's latest statement to parliament, which also saw VAT temporarily being cut from 20% to 5% for the hospitality and tourism sectors.

Cutting of VAT
Chancellor Rishi Sunak has announced a temporary drop in the sales tax from 20% to 5% for attractions, meals (exc. alcoholic drinks) and accommodation for a 6 month period between 15 July and 12 January.
In theory, the rate change could mean a couple buying a pub meal costing £45 (without alcohol) would save £5.62, if the whole of the VAT saving is passed on.  A key aim of the policy is to bolster struggling businesses in this sector and the decision of whether any of the tax saving is passed on to the paying customer is, of course, at the discretion of the establishment.
The policy will mean many businesses in the hospitality sector will have just one week to ready themselves to apply the new VAT rate into the sales recording systems and reflect on changes in their pricing structure.  This would add an extra administrative burden for the sector, and some will now be operating on three different rates of the sales tax.

Alcohol will see the 20% VAT rate remaining in place, there is a 0% VAT rate on cold takeaway food, and everything else will now see a temporary 5% rate.

Please contact Banks Sheridan on 01270 530970 should you require advice or assistance on these matters.